Karissma Yve, CEO/Founder Gildform
How To Design Your Jewelry With Gildform
If you've found us it's probably because you have a jewelry idea that needs to be brought to life or a brand that needs a little manufacturing modernization. Well, you've come to the right place. The jewelry industry so thick with crazy convoluted ways of doing things. The traditional jewelry manufacturers and casters are rooted in secrecy, high-costs and impracticality which lead to your jewelry designs going undeveloped or developed incorrectly. With Gildform, you're able to avoid that. We're not only your extended team, we're a tool for designing and manufacturing all of your jewelry ideas in an easier, more accessible and practical way.
The ability to communicate your designs is one very important skill set that all beginning and scaling designers will need. It is the starting point of your jewelry production process and the very first step to creating a physical product. Keep reading to learn how to get your products to market faster, avoid costly mistakes and make more beautifully crafted jewelry products when you Design With Gildform.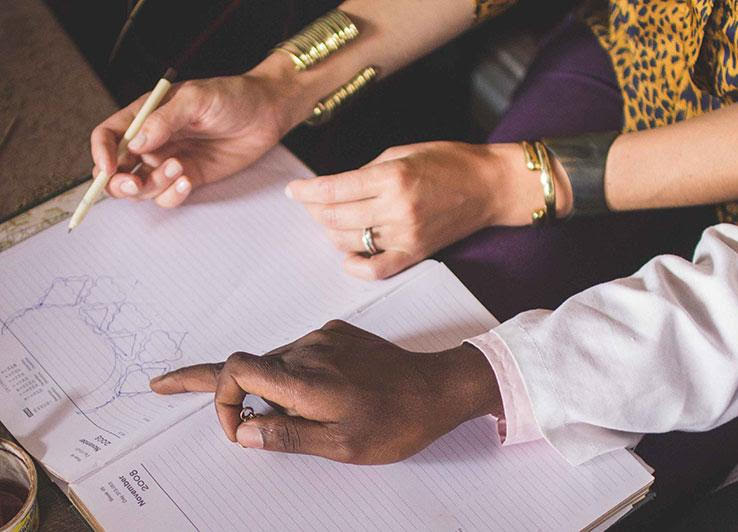 Overview
Gildform is an online, on-demand jewelry design and manufacturing platform. Our user-friendly web application provides a path to Gildform's on-demand jewelry production, high-quality finishing, fast-to-market lead times and the expertise developed over several years in the jewelry industry.
We use 3D technology to produce your jewelry. This is also how you're able to take advantage of the on-demand (no minimum quantity orders, yay!! 😁) manufacturing, the industry's most competitive and transparent pricing, shockingly fast-lead times, unique designs and so much more!
In short, we work with you to transform your idea into a 3D Model. This is the first step to manufacturing your jewelry. We'll then use the 3D Model for production. This is your 'virtual' jewelry model that we'll 3D print a model of and use for production. If you want to learn more about what happens in the production process you should go here.
Before we go straight to work on your 3D model, we will need some information from you in order to create the 3D model for your jewelry, the exact way that you envisioned it. The part is crucial. The more descriptive information that you give in the beginning, the more accurate your design will be and the more time and costs you save in the long run.
Here's What You'll Need:
You don't have to be a master sketch artist to submit a design for 3D Modeling but we do need to understand the overall shape, profiles and the dimensions in order to create the 3D Model. I put together a list of my favorite tools that every jewelry designer should have and will need for communicating your designs.
Digital Caliper (millimeters matter, especially in jewelry)
Pencil
Dot or Graph Paper
Tracing Paper
Dimensions to measure
Once you have a sketch, try laying out some dimensions with your caliper. Sketching jewelry designs to scale helps me visualize the form. I then use my caliper to measure it out to confirm the dimensions. The following dimensions are key for any design that will be modeled in 3D.
Width
Thickness / Depth
Length
Wall Thickness (if applicable)
Wall Depth (if applicable)
For rings, you'll want to visualize the overall shape and the different dimensions and the ring size.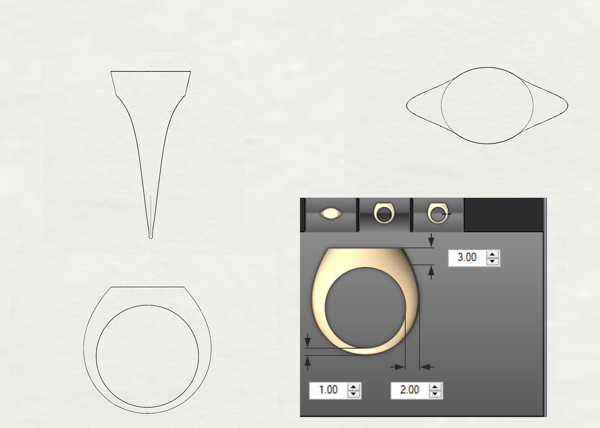 Ring size
Band Width
Band Thickness
Top Profile Shape (Width and Height)
Top Profile Depth
For Pendants, you'll want to consider the bail shape and the dimensions of the bail if there's a bail on the pendant.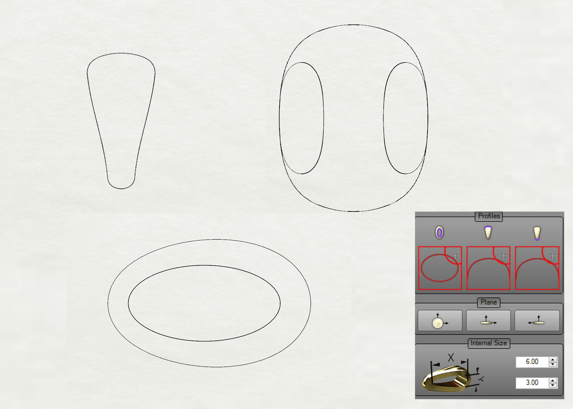 Bail wall thickness

Bail Gap Width (This area should allow your chain to pass through easily. Be sure to confirm your chain width)

Height

Width
Additional Tips and Tricks
Dimension Block? The best of us can be a little dimensionally-challenged and that's okay! If you've hit dimension-block, measure some of your favorite pieces of jewelry and make a note of those. Consider what about the dimensions you like and write that down. Is it the thickness of a Signet ring band that's super comfortable? Or a lightweight hoop that you never take off?
Be Ready for Inspiration. You never know when inspiration for a new jewelry design that you'll want to produce will hit you. The name of the game is to always be prepared. Carry a pocket sketch book with you! I even have a small compact jewelers caliper that I keep in my bag. Do it! You'll be happy that you did.
Use Reference Images. When you're coming up with a completely original jewelry product, you may want to share with us any reference images that you may have. For example, your pendant calls for a woven texture on the surface. To be sure that we understand your sketch, append a photo of the sample for the woven texture.
Be Descriptive. Sometimes oversharing can be... too much. But in the case of manufacturing and designing the jewelry product that only currently exists in your head you'll want to share as much information as possible. For example, disclosing the desired material can be very helpful because we'll optimize the design for the best cost and process for the material. Gold is more expensive. So if your jewelry product will be solid gold, we'll maybe want to suggest ways to minimize cost for material by adjusting the design.
Submitting A Design with Gildform
Once you've got your design and it's dimensions together, you can submit an inquiry right on our platform by selecting the box Design It With Us or by using the form here. You'll need to upload all of your images relating to that one design in the form such as sketches and reference images. Be sure that you include the dimensions that you worked so hard to finalize - we'll need those. In 1 - 2 business days we'll follow up with a quote for creating the 3D Model of your jewelry design or if we need any additional information from you.
For your convenience, there are two ways to Design With Gildform:
Request A Designer Via Platform

I am looking forward to seeing what you create next on Gildform. If you're a veteran at design and communicating designs to CAD designers, please share any tips and tricks that you've used by commenting below!